You can add two types of accounts on Monarch: Synced accounts that directly connect to your bank, and Manual accounts that you update. Read on to learn about both!
Adding a Synced Account
A synced account is connected directly to your bank. We'll automatically pull in balance and transaction details as you use the account.
During the initial setup of your account, or from the Accounts Screen, you will have the opportunity to link your account.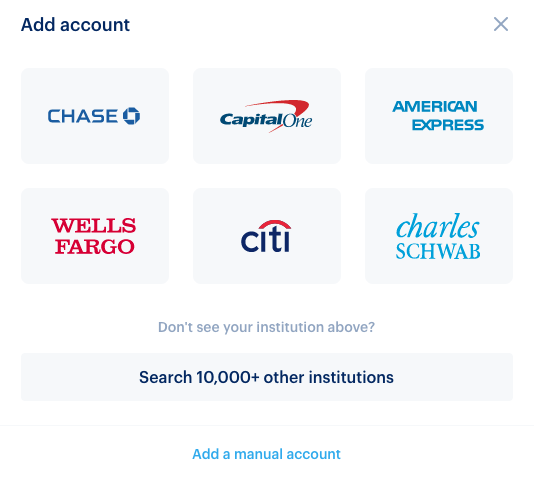 Select your bank from the six institutions presented or click "Search 10,000+ other institutions."
Enter your login credentials when prompted.
If required, complete any additional security steps required to log into your bank.
Your account is now linked to Monarch!
If you're having trouble adding an account, please check our Known Issues page to see if we're already working on a fix for it. If your issue isn't listed there, let us know.
Manual Account
A manual account is one that is not connected to a bank. You can track anything using this method from valuables like jewelry to a bank account that is not able to be synced automatically.
To add a manual account, select the account type and add any relevant information. Learn about adding manual transactions here!