New transactions will show up in Monarch as soon as they are posted by the financial institution. This usually happens within 24 hours of the transaction happening in real life. Monarch does not have any pre-determined "sync" schedule to check for new transactions so the last update time displayed on the connection status is the last time the bank/credit card sent a transaction to Monarch not the last time Monarch checked for new transactions: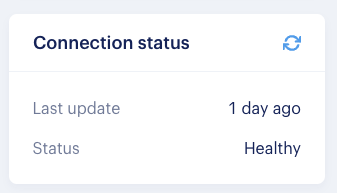 If you are missing some transactions try first using the 'cycle' icon in the connection status to force a refresh with the bank connection. If the missing transactions still don't show up, check that they are showing on your banks website or mobile app first. If they are, then contact support through the app and please provide:
The name of the account with missing transactions)
Info

for at least one missing transaction including the

Merchant

Date

Dollar amount
If multiple transactions are missing, provide the same info as requested above and include a range of dates where transactions are missing.
Our video regarding Current Connection Statuses may help as well.