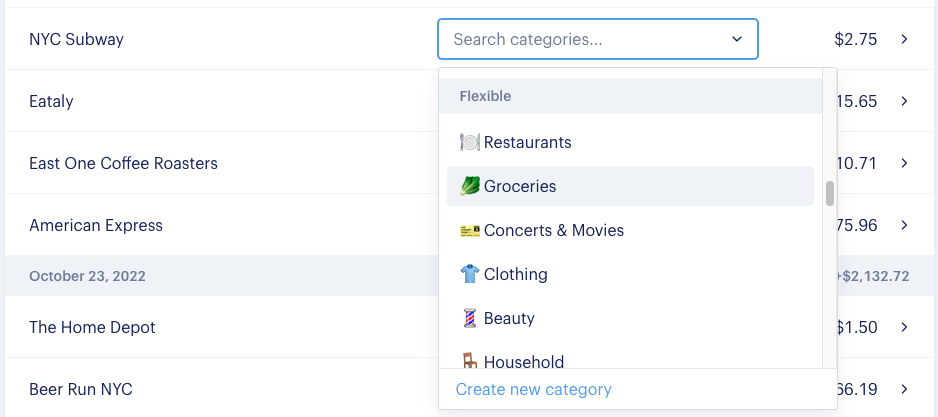 Categories are how Monarch organizes similar transactions together. They are similar to folders or envelopes as a concept. Every transaction in Monarch can be assigned to only 1 category and each category can have a planned budget amount for the month to track progress against.
By default Monarch comes with a list of system categories that are the most typically used. These are things such as groceries, restaurants, shopping etc - see below for the full list. Any new transactions will be automatically placed in a system category when possible and Monarch is always learning and improving which transactions belong in which default system category.
We recommend using default categories as much as possible instead of creating custom categories that are similar to the default ones. You can edit the names and emoji's to better suit your style.
You can also create Custom Categories which Monarch will not automatically place any transactions into. Instead you can create Transaction Rules to manually decide which transactions belong in each category.
Removing Default Categories
Default categories can be disabled but not deleted. Disabling does effectively the same thing as deleting since they will be removed everywhere in Monarch. But they can still be found in the settings screen in case you want to re-enable them in the future:

A good place to start is by reviewing and disabling default categories that may not apply to you. Common categories that are situational are:
Housing: Disable rent and renters insurance if you own a home with a mortgage or disable mortgage and homeowner insurance if you rent.
Auto & Transport: If you don't own a car you can disable most of these but keep taxi & ride sharing and public transportation
Children: This whole group of 3 categories can be disabled if you don't have kids
Business: This whole group of 9 categories can be disabled if you don't have business expenses. You can also disable the business income category.
View or edit default Categories by selecting Your Name > Categories located here or in the mobile app under Settings > Categories.
Default Categories
Income
Paychecks
Interest
Business Income
Expenses
Gifts & Donations

Charity
Religious Donations
Gifts

Auto & Transport

Auto Payment
Public Transportation
Gas
Maintenance
Parking
Auto Insurance
Taxi & Ride Sharing

Housing

Mortgage
Rent
Home Improvement
Homeowner Insurance
Renters Insurance
Lawn & Garden

Bills & Utilities

Garbage
Water
Gas & Electric
TV & Internet
Phone

Food & Dining

Groceries
Restaurants
Coffee Shops

Travel & Lifestyle

Travel & Vacation
Entertainment & Recreation
Personal
Pets
Fun Money
Subscriptions

Shopping

Shopping
Clothing
Furniture & Housewares
Computers & Electronics

Children

Child Education
Child Care
Child Activities

Education

Student Loans
Tuition
Books & Supplies

Health & Wellness

Medical
Dentist
Fitness
Health Insurance

Financial

Life Insurance
Loan Repayment
Financial Fees
Cash & ATM

Other

Uncategorized
Check
Miscellaneous

Business

Advertising & Promotion
Business Utilities & Communication
Employee Wages & Contract Labor
Business Travel & Meals
Business Auto Expenses
Business Insurance
Legal & Professional
Office Supplies & Expenses
Office Rent

Taxes

Federal Income Tax
State Income Tax
Property Tax
Transfers