The basics
We have a hierarchy of Groups and Categories to help you organize your transactions and easily track Income, Expenses and Transfers.
In addition to this default list, you can create your own custom Groups and Categories.
Deleting categories
You can delete transaction categories from the Manage Categories page on web. Remove categories that you don't want to track separately or aren't relevant to you. *Deleting categories is not yet available in the mobile app.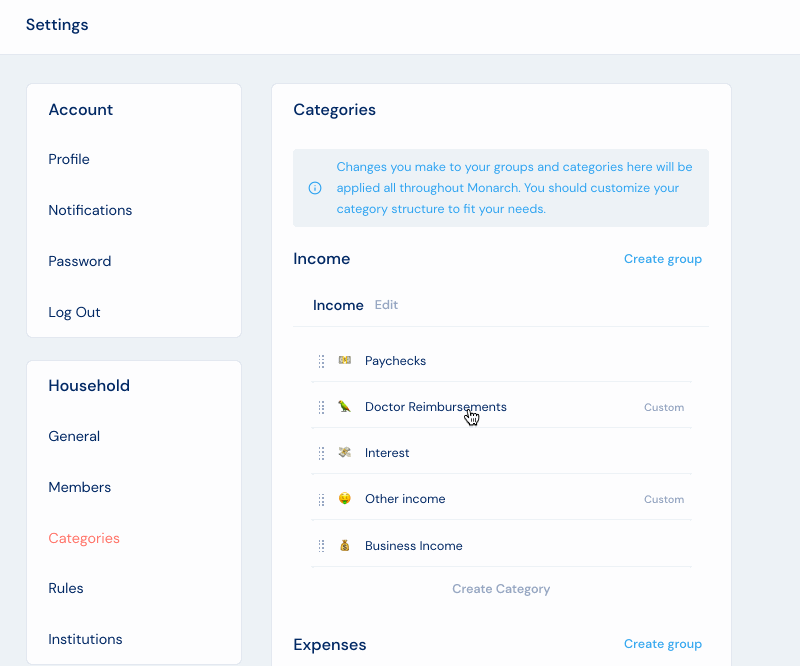 Default Category List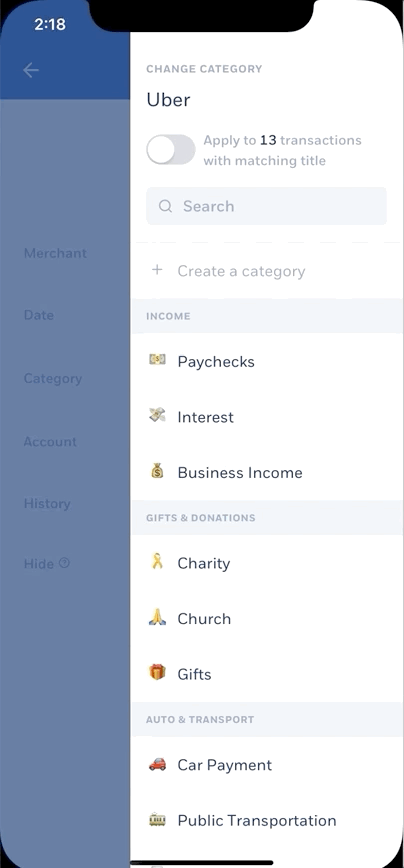 Income
💵 Paychecks
💸 Interest
💰Business Income
Gifts & Donations
🎗 Charity
🙏 Church
🎁 Gifts
Auto & Transport
🚗 Car Payment
🚃 Public Transportation
⛽️ Gas
🔧 Maintenance
🏢Parking
🚗 Auto Insurance
🚙Ride sharing
Housing
🏠 Mortgage
🏠 Rent
🔨 Home Improvement
🏡 Homeowner Insurance
🏡 Renters Insurance
🌳Lawn & Garden
Bills & Utilities
🗑 Garbage
💧 Water
⚡️ Gas & Electric
🌐 TV & Internet
📱Phone
Food & Dining
🍏Groceries
🍽Restaurants & Bars
☕️Coffee Shops
Travel & Lifestyle
🏝Travel & Vacation
🎥Entertainment & Recreation
👑 Personal Care
🐶 Pet Care
😜 Fun Money
🗓Subscriptions
Shopping
🛍Shopping
👕 Clothing
🪑 Furniture & Housewares
🖥Computer & Electronics
Kids
📚Kids Education
👶 Child Care
⚽️Kids Activities
Education
🎓Student Loans
🏫Tuition
📚Books & Supplies
Health & Wellness
💊 Medical
🦷Dentist
💪 Gym
🏥 Health Insurance
Financial
📄 Life Insurance
💰Loan Repayment
🏦 Financial Fees

🏧Cash & ATM
Other
❓ Uncategorized
💸Check
💲Miscellaneous
Transfers
🔁 Transfer
💳Credit Card Payment
Business
📣Advertising & Promotion
📞Business Utilities & Communication
💵Employee Wages & Contract Labor
🍴Business Travel & Meals
🚖Business Auto Expenses
📁Business Insurance
🗄Legal & Professional
📎Office Supplies & Expenses
🏢Office Rent
Taxes
🏦Federal Income Tax
🏦State Income Tax
🏦Property Tax
Tips and Tricks
1. Credit Card Payment VS Transfers
For credit cards that are connected to Monarch, categorize these payments as Transfers so the expenses aren't double counted.
The Credit Card Payment category works best when there is a card not connected to Monarch or when you want to track credit card debt you're paying off.
2. Create your own custom categories and groups
3. Move your categories between groups