The recurring section shows all your bills, subscriptions, credit card payments, paychecks, transfers or anything else that might happen on a regular frequency.
Add new recurring transactions
Any time Monarch receives new transactions from your banks or credit cards it will scan them to see if it detects any new recurring ones by comparing them to your existing past transactions.
You can click "add recurring" and "automatically detect recurring transactions" to trigger this on your own or you can also manually enter one if you know the recurring details already: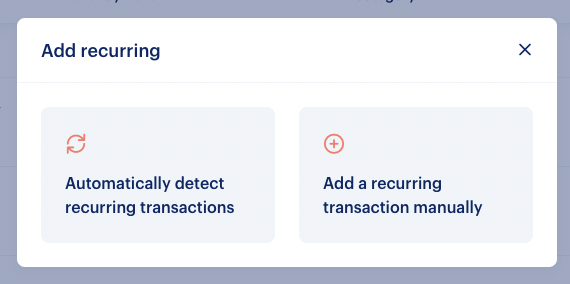 All recurring transactions have 3 properties:
Frequency: Weekly, Biweekly (every 2 weeks), Monthly, Quarterly (every 3 months), Semiyearly (2x a year), Yearly
Starting date: This is used to forecast the dates they will happen when used with the with the frequency field
Amount
These 3 fields are on the edit merchant screen once you mark the merchant as recurring: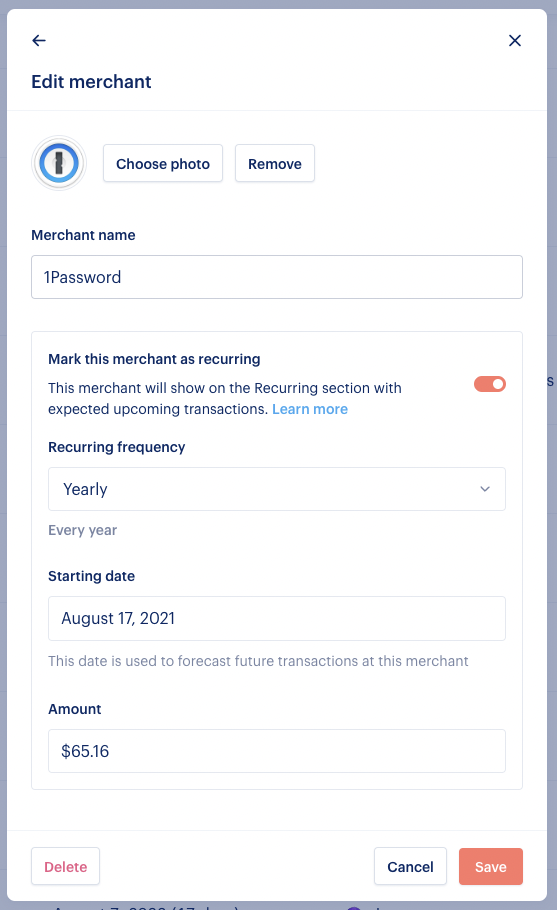 You can also add a recurring stream right from an individual transaction. This is probably the easiest way to manually add a recurring since it automatically populates the starting date and amount.
In the top right select the overflow dots and either edit the merchant details or mark it as recurring. You will also notice that individual transactions have a "recurring" label on them for each transaction: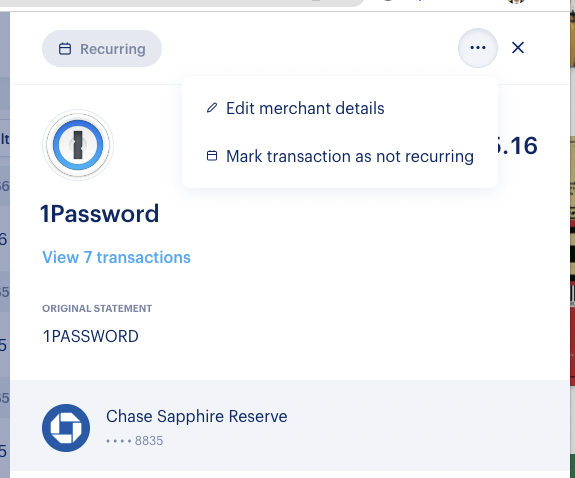 Remove recurring transactions
There are two ways to remove recurring transactions from the calendar and list.
1. If a merchant is set to recurring and it's mistake, you can edit the merchant and toggle the setting "Mark this merchant as recurring" to off. This will remove all past, present and future transactions from the recurring calendar and list.
2. If you have an "extra" entry on the recurring calendar, you can go in and mark that specific transaction as not recurring. This is done from the transaction detail screen, the same place you'd go to change the category.
Viewing recurring transactions
There are 2 views for recurring: upcoming and all merchants. The Upcoming view shows a calendar of the current month. Any recurring transactions that have been paid are colored green with a checkmark. Upcoming ones that haven't been paid are shown in blue. The list below the calendar shows all recurring transactions for the month with a green checkmark next to the amounts if they've already been paid. You can tab to future or past months to see recurring in those months.
The All merchants screen shows a list of all recurring merchants regardless of the month. This is a helpful page to see every recurring merchant.
Both pages can be sorted by any column: merchant, due date, category, account or amount. There are also filter options in the "view options" button to filter by a particular account.

Upcoming calendar view: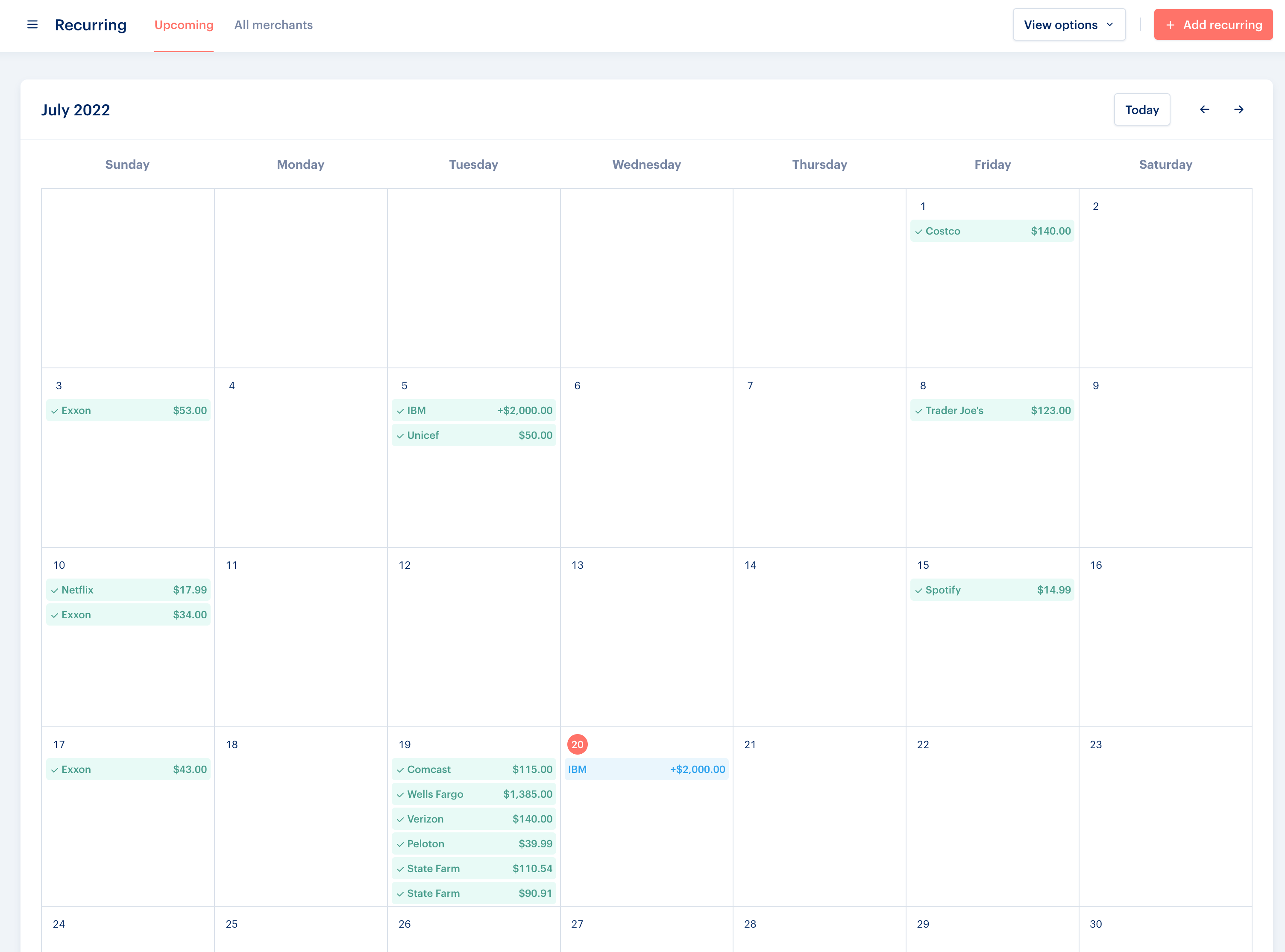 All merchants list view: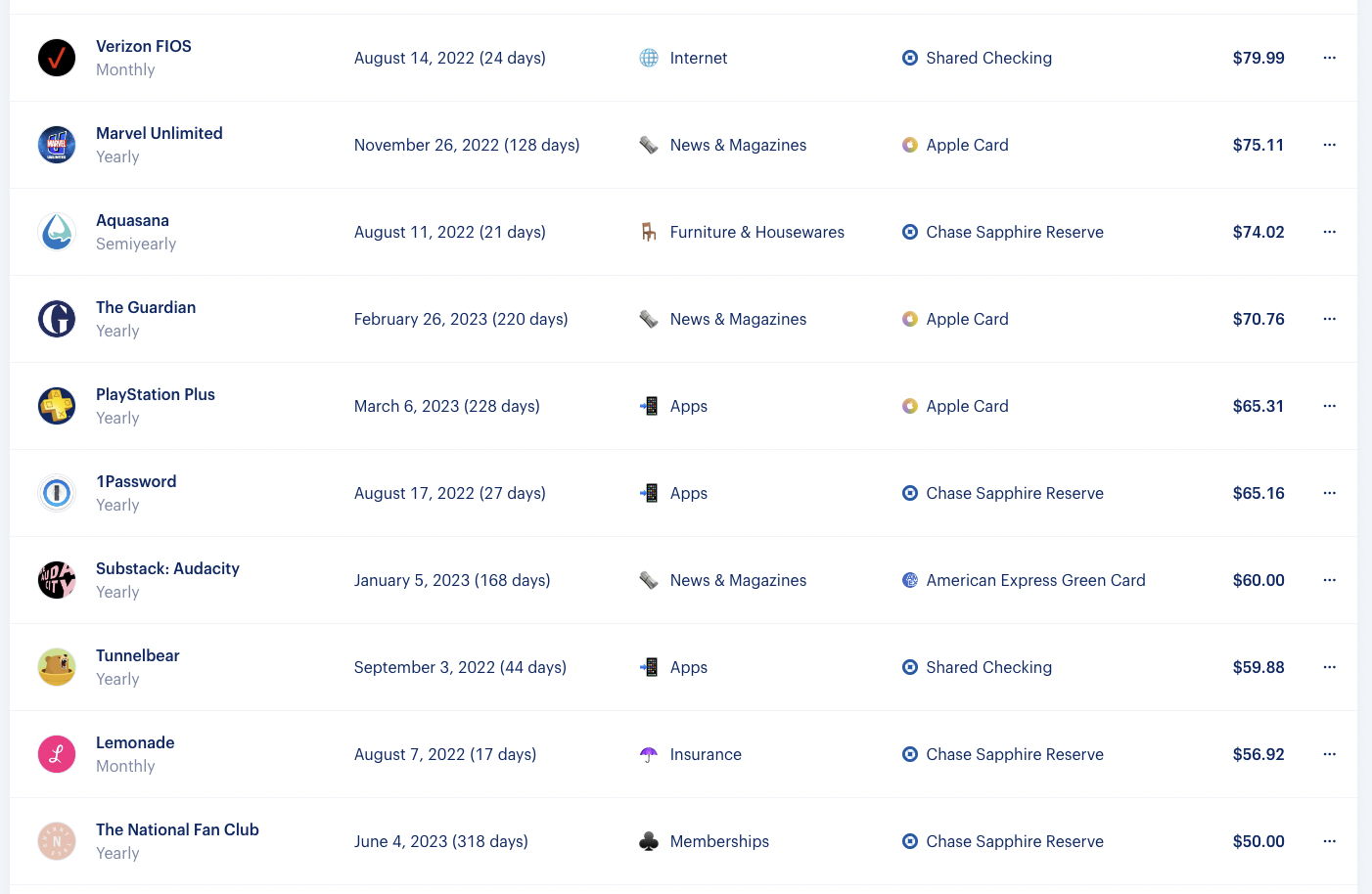 If you click any of the merchants in the calendar view it will show the 3 most recent transactions and a green check mark if it's been paid for the current month: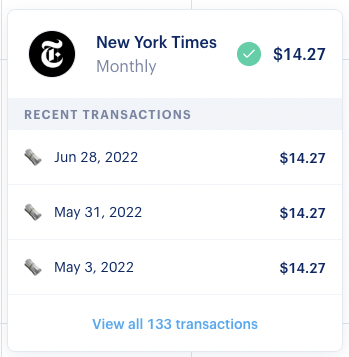 Tips
Use the Merchants page to search and combine merchants to have a cleaner list. The recurring section works off merchant names so it's helpful to have an organized list of merchants. For example you may search for "HBO" and see you have multiple merchants for "HBO", "HBO+", "HBO Now" and "HBO Max". If you click delete on a merchant you can merge them into 1 main "HBO" merchant so it's accurately tracked as 1 recurring stream.
Rules can be very helpful to ensure transactions always have the same merchant name applied to them so they show up accurately in the recurring section. For the HBO example you can create a rule and even apply it to past transactions to bulk change all of the name variations to just use 1 merchant called "HBO".
Each merchant can only have 1 recurring stream associated with it. If you have 2 subscriptions to the same merchant it's best to separate them into separate merchants so their due dates can be tracked separately:

App store subscriptions can be difficult to setup with recurring since Apple and Google do not provide any details in the original statement for what app or service is being billed. For example you may have a subscription to Spotify, YouTube Premium, Apple Music or even Monarch and if it's billed through the app store they will all show up generically like this:


By default Monarch will likely put them all into 1 merchant named something like "Apple Services" or "Google Utilities". It's best to split them out however into separate merchants (ie Spotify, YouTube, Monarch etc). You can do this automatically with rules if the account and amount are unique enough to recognize which ones they are. Here is an example of doing that for an "Apple One" subscription assuming there are no other app subscriptions that cost $30.19: